Diplomat Pharmacy, which sells medications to people with complex conditions and acts as a drug benefit middleman, is a shell of itself. The company was worth more than $3 billion in its heyday in 2015, but is now worth a little more than $200 million after a disastrous third quarter.
The bottom line: Larger specialty drug players — owned by Cigna, CVS Health and UnitedHealth Group — have crushed Diplomat with their size. Now, Diplomat is running out of cash and is being forced to sell assets, or the entire company, because it has "substantial doubt surrounding our ability to continue," the company said in its earnings report.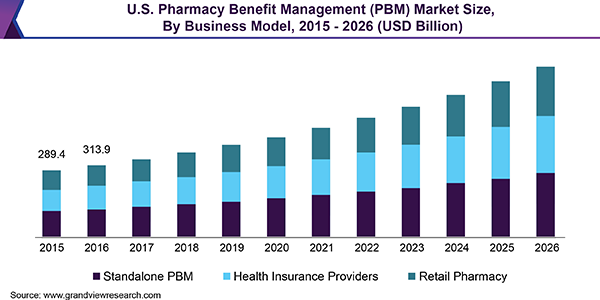 The pharmacy benefit manager business, which Diplomat just got into a couple years ago, has been a mess. Health insurers continue to drop Diplomat's PBM, including one of Diplomat's largest clients. Executives were not allowed to name the new insurer that is leaving due to a gag clause, but it likely is one of the big insurers that also owns its own specialty PBM.
Tyrone's Commentary:
You can't beat an oligopoly at their own game. You must change the game and then have them compete on your terms or die. Here are three examples of companies who died because the enemy (competition) changed the game: Kodak, Blockbuster and Blackberry.
Blockbuster was so complacent so arrogant that when the founders of Netflix needed cash in the early stages they offered to sell for $50 million to Blockbuster. The CEO of Blockbuster at the time, John Antioco, laughed them out of the meeting room. His thought was the price tag was way too high. Blockbuster is dead and Netflix's market cap now sits north of $150 billion!
If anyone from within Diplomat's leadership team is reading this please pick up "The Prince" and "Art of War" two books written by philosopher Niccolo Machiavelli. Here is one takeaway from Machiavelli's Art of War.
"What benefits the enemy, harms you; and what benefits you, harms the enemy."
History is wrought with similar stories WHI and Anthem, for example. Anthem originally sold its PBM to Express Scripts several years ago and decided to re-enter with IngenioRx last year. Walgreen's (WHI) looks like it is slowly re-entering with a recent stake in RxAdvance. I hear all the time, "I could start a PBM its not that difficult to do." Diplomat Pharmacy is a case study for how anyone can start a PBM but executing and surviving is another story.
By the numbers: Diplomat's main business, which distributes high-cost infusion drugs and other medicines that you don't find at your typical pharmacy, is still lucrative. Diplomat made a gross profit of $268 per prescription last quarter.
Continue Reading >>